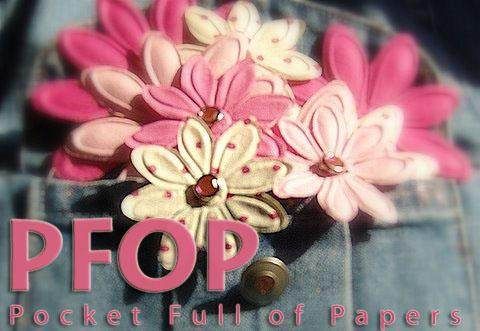 In June of 2006, I made the choice to start an eBay selling group for premade scrapbooking and paper piecing artists. The purpose of the group was to allow top quality designers, who also showed high integrity and ethics, to group together and pool our efforts for several different purposed. First, increase exposure to our work, two, build a larger clientel, and three, to see an increase in final bids. I originally named the group Quality Premade Scrapbook Association, QPSA for short. Later, we decided as a group to rename the team Pocket Full of Papers, or PFOP.
What I didn't expect was to gain so many great friends, and to become so emotionally attached to my group members. I have met so many fantastic people! Not only are they amazing artists, but amazing individuals. They want to do so much more than just make money. They desire to do for others and help not only their fellow members, but their communities and non profit organizations. I just can't say enough good things about the fine group of women I've been able to work with. I feel so honored they allowed me to lead them.
This past week I announced to PFOP that I would be leaving the group. It's a decision I've contemplated for a long time. I hate having to give up the daily interaction with my fellow team members, however with my pregnancy I just haven't had the desire to scrapbook and I have not been meeting the groups minimum listing requirements. As the group leader, I need to be setting an example, not lagging at the rear. Of course, no one in the group said a word to me about my lack of listings, but I did not feel like the group could grow and advance as long as I stayed on as the leader to serve my own selfish purpose.
Since I announced my impending departure I have been overwhelmed by the love and support my team has shown at loosing me. I never really considered myself a good leader, or even one of the better designers. I'm very touched at the respect I've been shown. It's been such an honor to lead so many talented and respected artists, and then to have then disappointed that I'm leaving, well sheeesh, I'm touched.
I won't be leaving immediately, there is one last multigroup challenge coming up in the end of April I plan to participate in. After that I will stay on for a short time, not as an active member, but more as a consultant to help the transition to new leadership go smoothly.
My good friend Tammy (scrapn4mygirlz on eBay) will be taking over for me and leading the group. She's going to do a wonderful job. She already has the respect of her team members as both a leader and a designer. She has shown over the years that she values her integrity and always tries to act in the best interest of everyone involved. She is a selfless person. When her name was first suggested as a team leader her response was that she wasn't a leader. I love that about her, because she really is a leader and has been for some time. The team agreed to support her 100%.
When I announced I was leaving the group several of my close friends and team mates, who were also just kind of holding on more for the social aspect than because they wanted to sell on eBay, (just as I was) also announced they would be leaving. I know PFOP is sad to see them go as well. It's going to be a different dynamic in the group for a while as new members join up and current members step into leadership roles. What remains though, is the same foundations and principles the group was built on. I'm sure that through those foundations and principles that even though the names and faces will change, and general feeling and mission of PFOP will remain the same.
All I know is once I leave I want a "PFOP Fan" tag for my discussion board posts.