I have finally decided today to leave by eBay scrapbooking design team.
*sniff* *sniff*
I'll miss the girls of PFOP very much, but I'm a bit of a flake right now and I am not all that interested in selling premades or paper piecings.
So anyway, My signature on discussion boards has always been a PFOP tag such as this: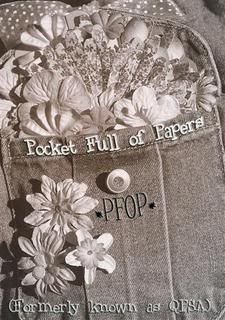 But now that I'm leaving I need to come up with my own tag. I took some pictures yesterday of a beautiful gerber daisy my friend gave me. And I thought I would try using it.
So here's the picture:
Crop Crop...
Photoshop Colored pencil effect... that's pretty cool, but not what I want...
Ah perfect! When I use it to sign my posts it automatically creates a link back to my blog.
I like how it looks right now, but I'm so picky it will probably get on my nerves. And then I'll have to change it again to something a little more mellow, and a little less yellow.
What do you think? I'd love to know if you got to my blog by using my new tag....